Analyzing the evolution of Ultra Music Festival
Ultra Music Festival (UMF) was founded in 1999 by Russell Faibisch and Alex Omes in Miami, Florida. The festival was named after the 1997 Depeche Mode album, Ultra, and was initially a one-day event held in Collins Park. The first edition of UMF featured only seven artists and attracted around 10,000 attendees. Despite its small size, the festival laid the foundation for what would become one of the world's most significant electronic dance music events.
The initial reception of UMF was positive, and it quickly became a staple of Miami's music scene. The festival's impact on the city's economy and cultural identity cannot be overstated. As electronic dance music evolved from an underground scene to a mainstream, billion-dollar industry, UMF grew and evolved with it. The festival moved from Collins Park to Bayfront Park in downtown Miami in 2001, and since then, it has become a global phenomenon, with events held in cities around the world.
The evolution of UMF can be seen in its lineup, which has grown from seven artists in 1999 to hundreds of performers from around the world today. The festival has also expanded its offerings beyond music, with art installations, food vendors, and other interactive experiences. As UMF enters its third decade, it remains a cultural event that has played a key role in shaping the global electronic music scene.
Ultra Music Festival's growth and expansion
Ultra Music Festival has experienced significant growth and expansion since its inception in 1999. Initially held as a single-day event in Collins Park in Miami Beach, the festival has since expanded to multiple locations around the world. Due to its massive rise in attendance between 1999 and 2000, the festival organizers decided to relocate to a bigger and better location. The festival has also increased in popularity and attendance, with over 100,000 festivalgoers in attendance by the late 2000s and early 2010s. This growth and expansion have contributed to the festival's legendary status in the music industry.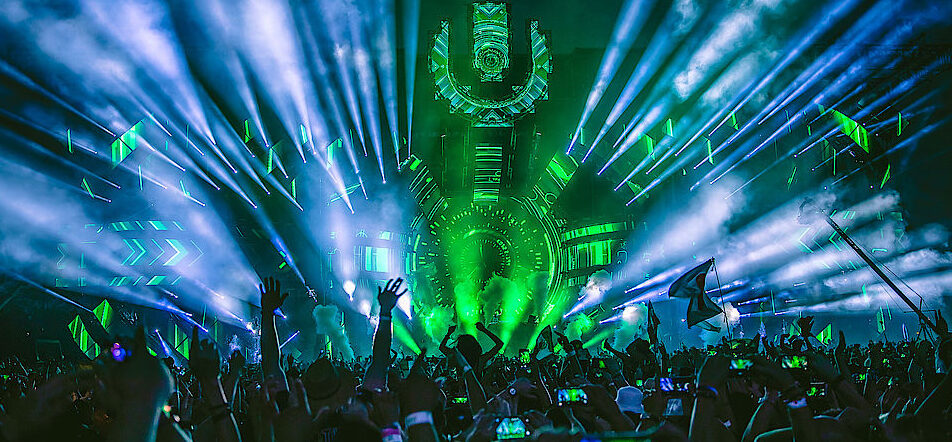 One of the significant factors contributing to Ultra Music Festival's growth and expansion is its increase in attendance and popularity. Since its inception, the festival has steadily increased attendance, with 10,000 attendees in 2000 and a record-breaking 330,000 attendees from more than 80 countries in 2013. To accommodate growing popularity and attendance, the festival has relocated to larger venues, such as Bicentennial Park and Bayfront Park in downtown Miami. This increase in attendance and popularity has made Ultra Music Festival one of the most significant electronic dance music festivals in the world.
Ultra Music Festival's growth and expansion have also been fueled by the introduction of new genres and artists. The festival has been a place where new sounds and styles are discovered, and where cutting-edge electronic dance music is showcased. This has allowed the festival to remain relevant and attract a diverse audience. Additionally, the festival has expanded its reach by hosting events in different countries, such as Australia and Asia. As Ultra Music Festival continues to evolve, it remains a significant player in the electronic dance music scene.
Controversies and challenges faced by Ultra Music Festival
Ultra Music Festival has faced numerous controversies and challenges over the years, particularly concerning noise and environmental concerns. Despite its efforts to reduce its use of single-use plastics, Ultra still faces criticism for its environmental impact. In 2020, a study by the Rosenstiel School of Marine and Atmospheric Science found that the festival was likely stressful to toadfish, highlighting the need for greater consideration of the festival's impact on local wildlife. Additionally, noise pollution from the festival has been a serious issue for nearby residents, leading to legal battles and public outcry. These issues have prompted Ultra to implement changes to mitigate its impact on the environment and surrounding community.
Safety and security issues have also been a major concern for Ultra Music Festival. In the past, drug use and overdose have been a problem at the festival, prompting increased security measures and precautions. The tragic death of a security guard in 2014 led to calls for the festival to be banned. Despite these challenges, Ultra has continued to prioritize the safety of its attendees, implementing new security measures and policies to ensure a safe and enjoyable experience for all.
Ultra Music Festival has also faced legal battles with city officials and residents. In 2018, the City of Miami Commission voted to deny a new five-year agreement for the festival to be held at Bayfront Park each year, citing safety and noise concerns. This decision was met with controversy and backlash from festival-goers and organizers alike. In 2014, Miami's mayor and a city commissioner introduced a resolution to prevent Ultra from receiving a permit the following year, following the tragic death of a security guard. These legal battles highlight the challenges faced by Ultra Music Festival in balancing the interests of all stakeholders involved. Despite these challenges, the festival continues to draw thousands of attendees each year, cementing its place as one of the premier electronic music festivals in the world.
The future of Ultra Music Festival
Ultra Music Festival has had a tumultuous few years, with the relocation to Virginia Key in 2019 and the cancellation and postponement of events due to the COVID-19 pandemic. The move to Virginia Key was met with mixed reactions, with some attendees excited about the new, larger venue that would allow for an improved festival experience, while others were disappointed with the location being out of earshot of the city. However, despite the initial challenges, the festival has continued to evolve and adapt to the changing times.
The COVID-19 pandemic has had a significant impact on the festival, with the 2020 event being postponed and ultimately cancelled. However, organizers have continued to plan for the future, with the hopes of holding the festival in 2022. The festival has also expanded beyond its Miami roots, with events in Asia and Australia. As the world continues to navigate the pandemic, the festival's plans for future events and expansion will likely depend on the state of the world and the ability to hold large-scale events safely.
Despite the challenges, Ultra Music Festival has continued to grow and evolve since its inception in 1999. The festival has expanded from a one-day event to a multi-day extravaganza, with an increasing focus on crossover acts and entertainment beyond the stage. While the future of the festival remains uncertain, it is clear that Ultra Music Festival has become a cultural phenomenon and a staple in the electronic music scene.